Star Wars is one of the most popular movie franchises of all time. Since the release of the first movie, Star Wars: Episode IV - A New Hope, in 1977, generation after generation has traveled to a galaxy far, far away and followed the adventures of the Jedi against the Dark Side. And, like any popular franchise, Star Wars has legions of hardcore fans.
These fans show their love for the characters by dressing up as them at ComicCon events around the world, buying the merch, going to see the movies time after time, and, on occasion, by making DIY crafts that really are out of this world.
So, to help you indulge your love of the franchise, or surprise someone who does, we've compiled a list of the best Star Wars hacks that the internet has to offer. May the force be with you (and your glue gun) as you try them out!
1. Star Wars Plant Pots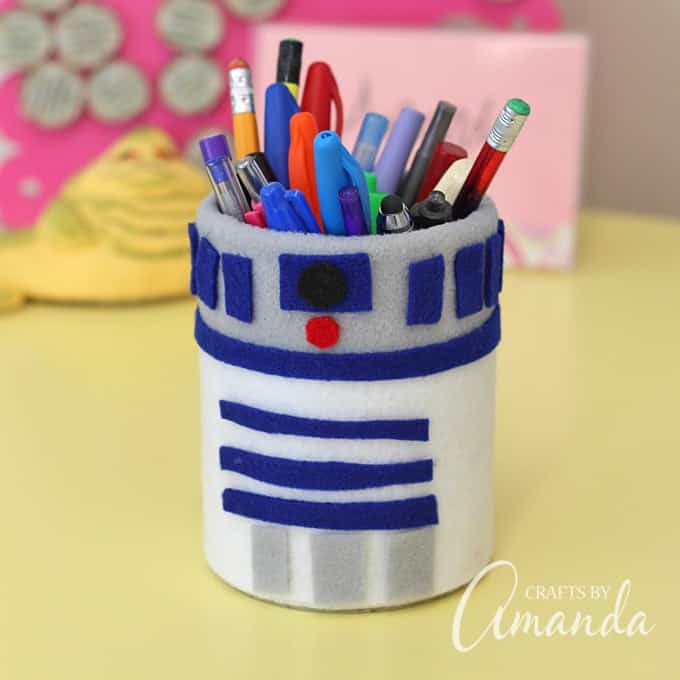 Credit: lemonlimeadventures.com[/caption]
Add a little movie magic to your backyard with these Star Wars plant pots. They take an estimated half an hour to make, according to this tutorial, and all you really need to do it successfully is enough creativity to paint them accurately!
2. Origami Yoda
Credit: origamiway.com[/caption]
This is a great DIY if you're looking for a fun, yet challenging way to pass some time. Perhaps you can do it while watching a Star Wars movie?! And, in the words of Yoda himself, "Do or do not, there is no try." Here is the tutorial.
3. No-Sew Princess Leia Costume
Credit: carrieelle.com[/caption]
Sure, you can buy Princess Leia costumes, but it's a lot cheaper to make one, and you can customize it to ensure that it fits either you or your little princess. Follow this no-sew tutorial and strut your DIY stuff on Halloween or at ComicCon.
4. Star Wars Lanterns
Credit: frugalfun4boys.com[/caption]
These not only look fantastic, but they are one of the simplest and cheapest DIYs on this list to make. All you need are tin cans, a hammer, nails, and the ability to draw a few simple Star Wars-related designs (but you can always print them off).
5. Origami Darth Vader
Credit:
Tadashi Mori - Origami Tutorials - youtube.com
[/caption]
Who'd have thought that Darth Vader could look so cute? You'll know whether or not you've been blessed with the force when you try and create him - plus, we think he's a pretty cute nerdy home accessory! This is how to do it.
6. DIY Princess Leia Buns
Credit: mesewcrazy.com[/caption]
It doesn't matter how old you are, if you want to emulate any hairstyle from Star Wars, then it's most likely going to be Princess Leia's iconic buns. But how exactly do you get your hair to sit like that? This tutorial contains everything you need to know.
7. DIY 'May the Fourth' Banner
Credit: maythefourthbewithyoupartyblog.com[/caption]
Planning a Star Wars party this May the 4th? Then decorate your house accordingly with this printable banner DIY.
8. Darth Vader Shoes
Credit: twindragonflydesigns.com[/caption]
Want to make an impression at a Star Wars movie marathon? Then you absolutely need to turn up rocking these Darth Vader shoes. Simply buy a pair of black sneakers and some acrylic paint, then, with a steady hand, follow this tutorial and voilà!
9. Darth Vader Bookmark
Credit: redtedart.com[/caption]
Remind yourself of your dedication to Star Wars even when you're getting lost in other stories with this Darth Vader bookmark. Easily made from felt and paint, use Darth Vadar's menacing mask to mark your page at all times with this tutorial.
10. R2-D2 Pencil Holder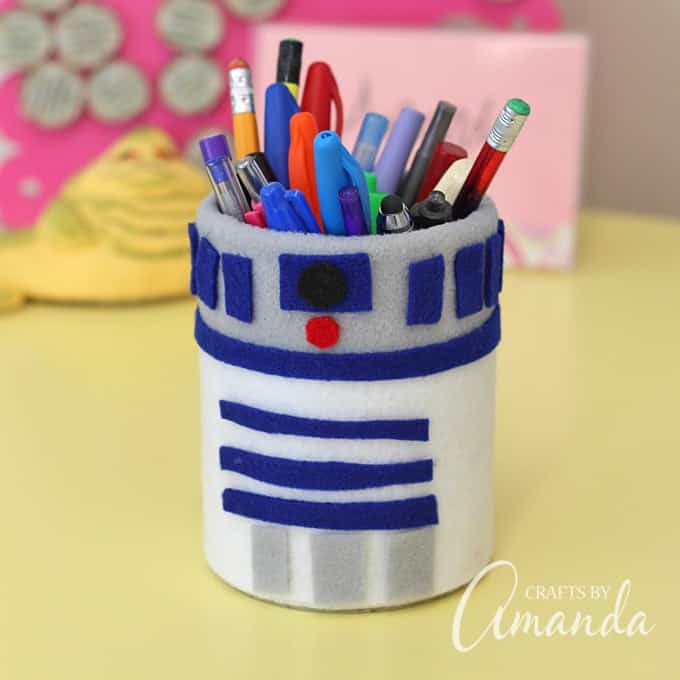 Credit: craftsbyamanda.com[/caption]
This is the perfect DIY if you're wanting to tidy up your desk. All you need is felt and a can. For full instructions, check out this tutorial. You can buy the materials in a bid to get the younglins in your life to do their homework!
11. $5 Lightsaber
Credit: instructables.com[/caption]
Yes, you read that right, you can make the kids in your life lightsabers for a mere $5. Check out this tutorial to find out how.
12. Star Wars Valentine's Cards
Credit: madincrafts.com[/caption]
February the 14th is just around the corner, so why not let the Star Wars fanatic in your life know how much they mean to you with a homemade card? It's got the personal (and punny) touch, and if you follow this tutorial, will look great!
13. Rogue One Kyber Crystal Necklace
Credit: thekesselrunway.com[/caption]
On the subject of Valentine's Day, this is another great DIY gift idea. While there are replicas of it available, they tend to be on the pricey side, and all you need to make this homemade one is a Quartz crystal, cord, and glue - and, of course, this tutorial.
14. DIY Deathstar
Credit: techeblog.com[/caption]
If you want to have the nerdiest item ever in your bedroom, or simply give the kids in your life a toy that they'll always remember, you have to make a DIY Death Star. All you need is paint, a little skill, and this lamp from IKEA.
15. DIY Storm Trooper Doll

Credit: crafting-news.com[/caption]
This is the perfect DIY gift for any younger Star Wars fans in your life, or, y'know, little people who you want to grow up to be Star Wars fans. And while it might look complicated, it's actually incredibly simple to make with this free pattern.
16. Chewbacca Gift Bag
Credit: culdesaccool.com[/caption]
It doesn't matter whether you're throwing a party for kids or grownups, or simply looking to make the Star Wars' fanatic in your life's birthday that little bit more special, this homemade Chewbacca gift bag is guaranteed to be a hit.
17. Darth Vader Lamp
Credit: Green Eggs and Goats[/caption]
With nothing more than paint, you can turn a standard black lamp into something a lot more sinister. Come to the Dark Side here.
18. Star Wars Pegs
Credit: Esty / @dorkstitch[/caption]
With enough creativity, you can give just about anything a Star Wars makeover. So if you've got a kid who's a fanatic and want to surprise them, why not paint some pegs into their favorite characters? There's a full tutorial available here.
19. Jabba Pillow
Credit: ilovetocreateblog.blogspot.com[/caption]
The bigger the pillow, the better. So who else would you make a Star Wars pillow out of than Jabba the Hut? He's a simple enough creature to sew into a brilliant DIY project. Do to do, simply follow this tutorial at Dwell.